Which Coffee Maker – Integrated or stand alone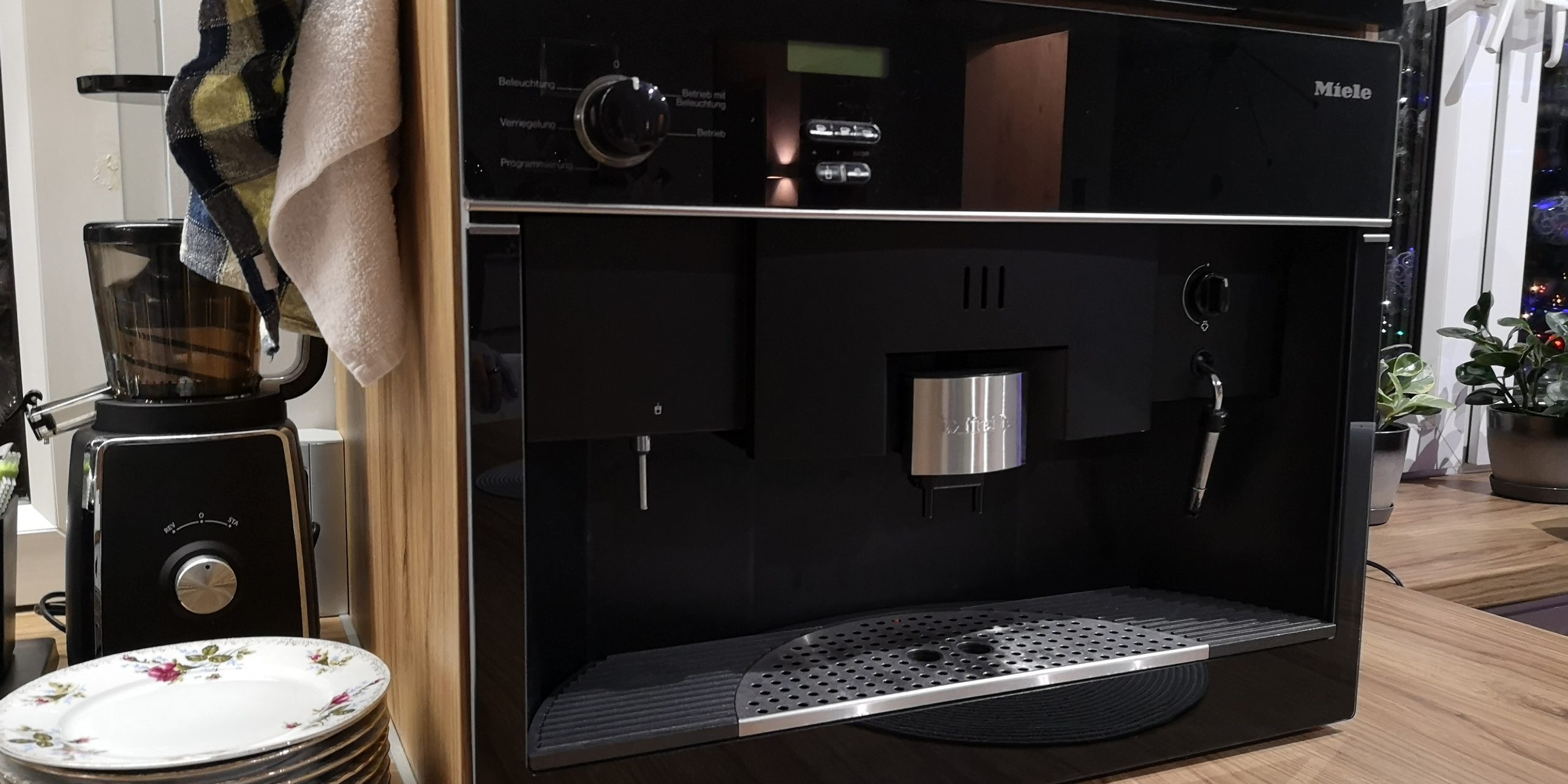 Coffee is an integral part of the morning. We drink it at work, in the cafe, during meetings. Why should we not do the same in the comfort of our own home? Therefore, more and more people are choosing to buy a coffee machine for an apartment. The stores offer includes various devices that differ in many functions and price. Deciding to buy this equipment, we will face a choice – integrated coffee machine or stand?
Built-in coffee machine or freestanding – advantages and disadvantages
If you're wondering whether to choose a built-in coffee machine or a free-standing coffee maker, it's worth learning the pros and cons of both solutions.
Integrated (Built-in) coffee machine
The built-in coffee machine, as the name implies, will be an integral part of the kitchen furniture, just like an oven or microwave. It will not take away valuable space on the countertop and can be so integrated into the furniture that it will not be visible at all.
However, before we make a purchase decision, it is worth taking a closer look at the pros and cons of such a solution.
Advantages of the built-in espresso machine
First of all, the biggest advantage of a built-in espresso machine is its appearance. Aesthetic buildings are the number 1 hit in every modern kitchen. The built-in espresso machine is elegant and fits perfectly into modern interiors as well as maintaining a classic style.
Built-in espresso machines are devices from professional manufacturers, which is why they are high-quality appliances with many functionalities. Cleaning is another advantage. We don't have to worry about dust on the surface of the whole device. Just wipe the front of the espresso machine.
Another very important advantage of integrated coffee machines is that they have the possibility of a permanent connection to the water supply from the network.
Of course, this requires a water supply, but we get a very convenient solution.
We don't have to keep remembering to refill the water tank.
In addition, integrated coffee machines equipped with a permanent water intake encourage you to use the hot water preparation function.
If our device provides us with boiling water from the network – much more often we will brew not only coffee in it, but also other hot drinks, e.g. tea
Built-in espresso machine – disadvantages
Certainly one of the disadvantages is the higher price than standard models of free-standing devices.
Therefore, choosing this type of espresso machine is not suitable for people who are looking for budget solutions. In addition, we must remember that choosing a built-in espresso machine involves replacing the cabinet or matching the furniture to the espresso machine.
Because the coffee machine cannot be at floor height or at the height of upper cabinets (it would simply be non-functional), we still have to accept the reduction of the countertop area.
So we save space on the countertop, but this surface can not be used. The way out is to build the machine and oven or microwave into one bar, but this can hinder access to the equipment, because in each case it is best to have the equipment at working height.
It should be remembered that any possible service of the device or warranty repair may be difficult to carry out due to the need to remove the device from the furniture wall.It may turn out that we will have to call an expert to dismantle the device.
Freestanding coffee machines – we simply pack them in a package and send it.
Stand alone (Free – standing) coffee machine
Freestanding coffee machines can be placed anywhere in the kitchen: on the worktop, in an open shelf, on the dresser, on the table top and even on the countertop connecting the kitchen with the living room. They do not require assembly within the building, which is why they offer great arrangement flexibility. In addition, due to the relatively low weight, they can be easily moved and even transported. But on the other hand, when we have a small kitchen, it may turn out that we do not have enough space on the countertop to make the setting functional. In addition, we need to refill water, add coffee beans and empty the grounds container, so we need to ensure easy access to the machine from almost every side, and it is bothersome to constantly move the equipment.
Capsule espresso machines – the smallest on the market
One of the smallest coffee machines available on the market are free-standing capsule models. They have a compact design that will easily fit into most kitchens.
In addition to small dimensions, the advantage of capsule machines is their low price and easy operation. The brew in them is prepared from a mixture of ground coffee enclosed in a capsule (also known as a cartridge). Coffees prepared in this type of devices often have worse taste values ​​than those prepared in a traditional espresso machine. Their disadvantage is also that individual capsule machines support only selected types of cartridges (usually manufactured by the device manufacturer). This limits the spectrum of coffees that can be prepared using one machine model.
Coffee machine with flask
The cheapest freestanding coffee machines can be purchased under 100 pounds. Usually these are the previously mentioned capsule models and coffee machines. The latter type of coffee machine owes its name to its characteristic element, i.e. the flask. A sieve with ground grain is placed in the flask and then attached to the coffee machine. Water under the right pressure flows through the grain and in this way coffee with a characteristic foam (crema) is created. It is worth knowing that the cheapest espresso machines usually do not have a built-in grinder for grinding beans, which makes it impossible to brew coffee with appropriate parameters (adjusting the amount and thickness of beans to the type of coffee is in this case much more difficult). To be able to precisely regulate the thickness of grinding the beans, it is necessary to buy a grinder. Also, the process of foaming milk in espresso machines is not fully automated, which requires from the user a greater contribution to the preparation of latte macchiato, cappuccino and other specialties with milk foam.
The advantage of free-standing espresso machines is their wide selection, which gives great arrangement freedom. Among the models available on the market we will find coffee machines in a variety of styles and colors. Lovers of retro interiors should like stylized coffee machines, whose largest selection is in the group of flask models.
More expensive espresso machines are usually fully automated and equipped with intuitive control panels that allow you to make coffee at the touch of a button.
Quality and additional features
Both in the group of built-in and free-standing espresso machines, we find more expensive models and those at a more affordable price, which differ in construction and available functions. Manufacturers are racing to come up with new fancy shapes and to bring out better and better taste in a cup of coffee to their customers.
Regardless of the choice whether the coffee machine will stand on the countertop or be built into kitchen cabinets, having a larger budget, it is worth buying a more expensive coffee maker that will allow you to get coffee with excellent taste qualities and thanks to its quality it will serve trouble-free for a long time. In the long run, the more expensive model may therefore prove to be a more economical choice.